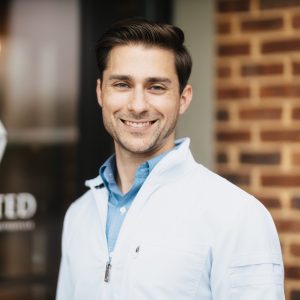 Nicholas Bottorff, DDS, is the founder and owner of Elevated Dentistry, located in Charlottesville, Virginia. Dr. Bottorff has a calming presence and has received multiple accolades for his excellent bedside manner. In 2023, Dr. Bottorff was named one of the Top 40 Dentists Under 40 in America by Incisal Edge Magazine, a leading dental publication.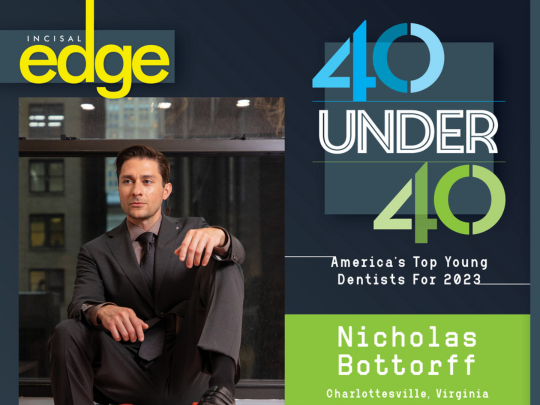 Dr. Bottorff believes that one of the most significant aspects of dentistry is building relationships with patients, and he prioritizes treating people rather than just teeth. His approach to dentistry is comprehensive, and he emphasizes education and treating the causes behind the symptoms that bring patients to Elevated Dentistry. Dr. Bottorff considers patient communication and education to be paramount, and he strives to be more than just a provider, but also a partner in his patients' oral health.
Moreover, Dr. Bottorff has a strong artistic sense and is passionate about delivering aesthetic results, regardless of the procedure he is performing. When performing cosmetic and restorative procedures, he adheres to the philosophy that "the best dentistry looks like no dentistry has been done." This means that he pays special attention to each patient's unique anatomy in relation to size, shape, and shading, just as in nature.
Dr. Bottorff is dedicated to lifelong learning and providing patients with the highest quality comprehensive care. As a member of the American Academy of Cosmetic Dentistry, the American Academy of Clear Aligners, and the American Academy of Implant Dentistry, Dr. Bottorff is able to stay up to date and well trained in the latest technology, research and advancements in technique. In addition to those specialty organizations, Dr. Bottorff is also a member of the American Dental Association®, the Academy of General Dentistry and the Virginia Dental Association.
Dr. Bottorff is originally from Clifton, Virginia. Before attending university, he played as a goalie in the Western States Hockey League. He then pursued his undergraduate degree in biological sciences at Virginia Polytechnic Institute and State University. After that, he completed a post-baccalaureate certificate in advanced biomedical sciences at Georgetown University and went on to enroll at the Virginia Commonwealth University School of Dentistry. During his college years, Dr. Bottorff spent his summers working under the guidance of the dentist for the NFL's Washington Commanders Football Team, where he focused on sports dentistry.
Over the past decade, Dr. Bottorff has dedicated his time to various philanthropic dental organizations including Dentistry from the Heart and Mission of Mercy.
Outside of his work at Elevated Dentistry, Dr. Bottorff enjoys exploring the beautiful Charlottesville area, especially all the great local wineries and restaurants. Dr. Bottorff is also an avid music lover and has been playing the guitar for most of his life. His 'go-to' Fun Fact is he started a band in dental school that had their Dean on the bass guitar, but don't ask him about any upcoming shows, these days his live audience is comprised of two adorable cats he shares with his fiancé.