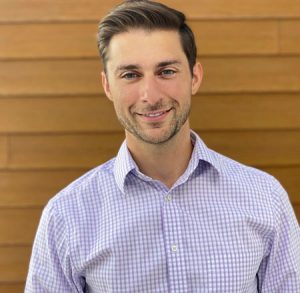 Nicholas Bottorff, DDS, is the owner of Elevated Dentistry of Charlottesville, located in Charlottesville, Virginia. Dr. Bottorff has a calming presence and has received multiple awards for his outstanding bedside manner. He also possesses strong artistic sensibilities, allowing him to focus on aesthetics and restorations when necessary.
A native of Clifton, Virginia, Dr. Bottorff played one season for the San Antonio Diablos, a minor league hockey team in the Western States Hockey League prior to attending university. He then went on to complete his undergraduate degree at Virginia Polytechnic Institute and State University in Blacksburg, where he majored in biological sciences. Dr. Bottorff then earned a post-baccalaureate certificate in advanced biomedical sciences at Georgetown University before enrolling at the Virginia Commonwealth University School of Dentistry in Richmond. During his collegiate years, Dr. Bottorff spent his summers working under the direction of the dentist for the NFL's Washington Football Team, where he focused on sports dentistry.
To stay up-to-date with the latest developments in oral health care, Dr. Bottorff is a member of several professional organizations, including the American Dental Association®, the Academy of General Dentistry, the American Academy of Clear Aligners and the Virginia Dental Association. For the past ten years, he has also volunteered for a variety of dental organizations, including Dentistry from the Heart, Mission of Mercy and Hope for Tomorrow.
Outside of the office, Dr. Bottorff's passions include golfing and music.
Meet Our Team
Meet the team who will help our dentist improve your smile! Many of our team members have been with our office for over ten years. You will find a positive and supportive group who will want to know about you and your day, not just about your dental needs. We have a relaxed atmosphere that mixes quality dental work with plenty of laughter! The Elevated Dentistry team speaks English and Spanish to serve the people in our diverse community. You can call 434-979-1365 for your dental appointment in Charlottesville, Virginia, to meet our team and get started on your new smile.
Check back soon to meet our team.