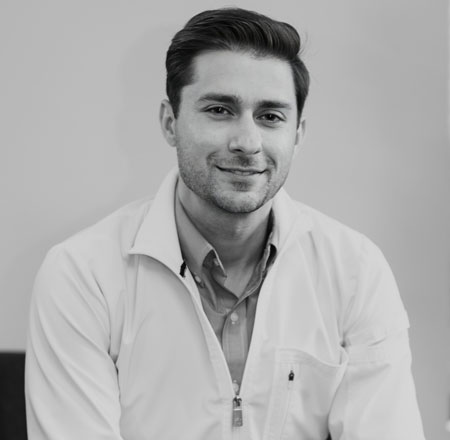 SERVING CHARLOTTESVILLE, VIRGINIA, & SURROUNDING AREAS
Meet Nicholas Bottorff, DDS
Welcome to Elevated Dentistry. Our dentist, Dr. Nicholas Bottorff, and our team provide quality dentistry in Charlottesville, Virginia, and love meeting clients from all over Albemarle County, including Crozet, Keswick, Zion Crossroads, Troy and Earlysville. We strive to provide all patients with an exceptional experience, making your appointment feel more like self care than the traditional office visit.
meet the team
OUR REVIEWS
Why Choose Us?
Dr. B and the staff at Elevated Dentistry are just wonderful. The moment you walk in you are welcomed with kindness and the desire to provide care. From Heather the office manager, to the care of Erica and Marguerite, to Dr. B's expertise, an experience at the dentist though can be anxiety inducing for some, is so incredibly pleasant. They even gave me sparkling water while I was waiting for the numbing agent to kick in. Whether you go twice a year or haven't been in 10 years, their care goes above and beyond. Thank you Elevated Dentistry staff!!
- Mariko D.
I am 60 years old and have lived all over so you can imagine how many Dentists I have had. That being said Doctor B and his staff are the best that I have ever had. Let's face it no one really loves going to the Dentist but Doctor B and his staff make it enjoyable. And on top of that he does great work , a true professional and perfectionist. I have recommended a number of people to Elevated Dentistry and they have all thanked me for doing so.
- Richard P.
This was my first experience at Elevated Dentistry. I had to get a root canal and crown placed. Seeing as this was my first time getting those procedures done, I was a bit nervous. I am tremendously impressed with how quickly I was able to get an appointment and the care I received during my time at Elevated Dentistry. Pre procedure, Dr. B, and his staff took the time to explain the ins and outs of what was to be done. They answered any questions that I had and were quite kind throughout. I highly recommend this practice as, Dr. B, and his staff are extremely professional and skilled. My procedure was painless and my tooth looks great. Overall, I would give my experience a 10/10.
- Leah B.
I am new to town and woke up one morning with a pretty bad toothache. I called elevated dentistry after hours and left a message on their emergency line. They called me back at 8:05 AM the next morning and got me in right away. Everyone was really nice and professional. The offices were spotless. After reviewing an x-ray the dentist couldn't find any infection or fracture on the tooth that hurt. He spent a great deal of time explaining to me that something had happened to my tooth that created trauma and he believed that doing nothing and waiting was the best course of action And that it would likely clear up on its own. Two days later my mouth is fine and it did indeed clear up on its own. I really appreciate the conservative approach he took on my teeth.
- Heidi G.
I had an incisor with a side filling breaking away with part of the tooth along with it. I called Elevated and they made an appointment for me the very next day. Wow! I was in and out in less than 90 minutes, with a perfectly built tooth that looked like it had been there my whole life. The color matched exactly. Once Dr. B evaluated me, Caitlyn came back quickly with a plan for the procedure, showed me what my insurance would cover, then asked me if my out-of-pocket cost was acceptable. How often does THAT happen in a provider's office?!? I can't think of a single thing this team could have done any better. You will not be disappointed with Elevated Dentistry!
- Bob R.